Sorting Expense Reports Follow
The Sort & Filter feature makes it even easier to locate your reports. This function is available on multiple screens. This article will show you how to sort and filter features on the Expense Reports, Approval, Export, and Exported Reports pages.

Expense Reports Page
From any Expense Reports page, click Sort Reports By on the upper-right corner to reveal the list of available filters. Different pages may have different sorting variables, depending on the available information for the reports at each stage.
Approval Page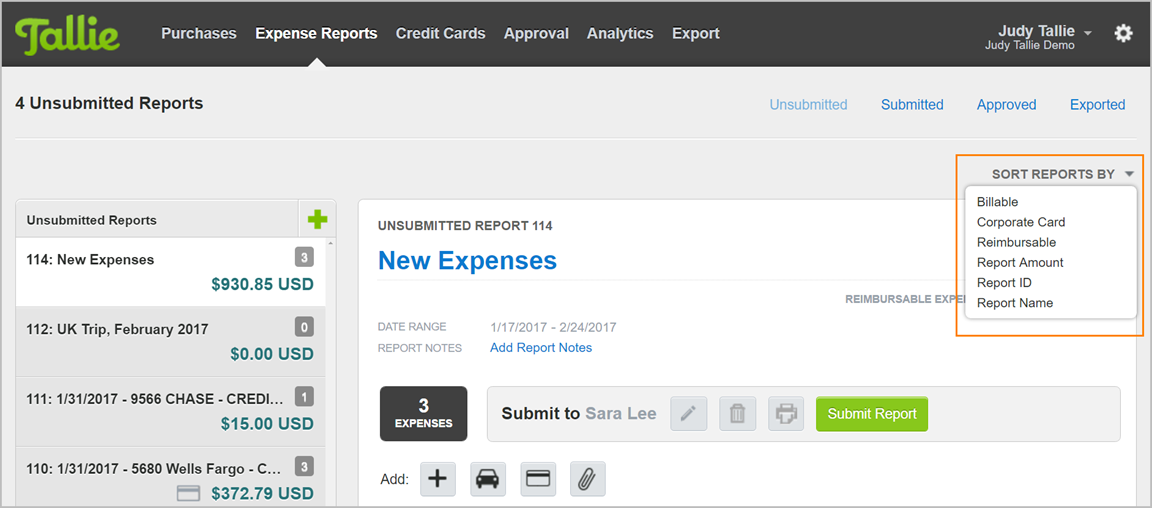 Export Page

When a sort option is active, you can switch between ascending and descending order by clicking Z→A. Search ability is also available for select sort options.

To search by Report ID, click Sort Reports By and select Report ID. Enter the Report ID in one of the fields, and click Enter on your keyboard. You can also enter two Report IDs to show reports within that range.


Default settings on the Approval, Export, and Exported pages sort based on the submission/approved/exported dates in descending order (newest on top) by default.
Exported Reports Page

The default settings on the Expense Reports page sort by report ID in descending order by default.