Integrating Xero & Tallie Follow
Tallie has a direct integration with the cloud-based accounting system, Xero. Once Tallie has been connected and synchronized with Xero, data will move seamlessly between the two systems.This article will show you how to connect, sync, and export to Xero.
Connect and Sync with Xero
The first step of this integration is to authorize Tallie to access your Xero and establish a connection between your Tallie and Xero.
To connect with Xero:
In Tallie, go to Settings.
Click on Integration & Sync.
Click on Sync Settings.
Select Xero from the Accounting Software menu.
A Connect to Xero button will appear. Click on it.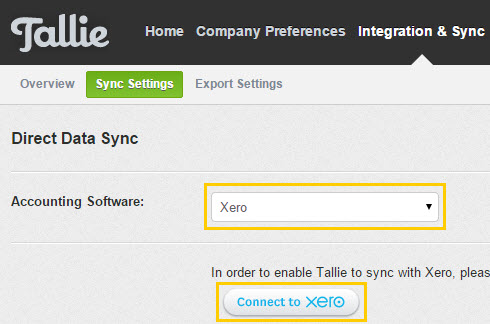 You'll be taken to Xero. Select the organization you'd like to sync with, and click Authorize.
Once connected, you'll be directed back to Tallie in a second. You'll notice two additional drop-down menus have appeared based on your Xero tracking categories found in Settings > General Settings > Tracking. Map them properly, and click Start Sync when ready.

Please Note: The tracking category mappings cannot be changed once set. If they need to be updated in the future, we will need to create a new Tallie account for you.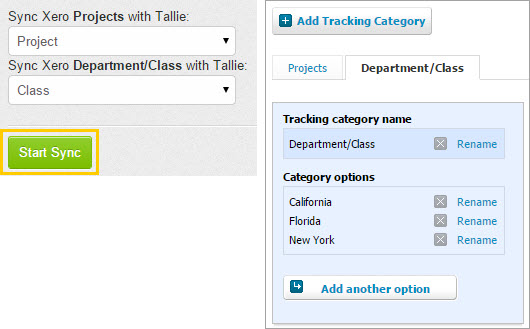 A green progress indicater will pop up at the top of your Tallie page during the sync. Once it's completed, spot check your Tallie Manage Lists area to make sure everything has been synced across.

Setup Tallie
To prepare Tallie to be ready for export, you'll need to make sure the following tasks are completed:
Map People to their Contacts in Xero, so Tallie knows who to generate a reimbursable bill for during an export:

Go to Settings.
Click on Manage Lists.
In the People list, click on a user.

Please Note: Employees in Xero are created as People in Tallie during the sync.

Under the Mapping tab, select the proper vendor name and click Save.

Please Note: Contacts in Xero are created as Vendors in Tallie during the sync.
Map Expense Categories to accounts:

Go to Settings.
Click on Manage Lists.
Select Expense Categories.
Here, you'll find several expense categories ready for use. Click on one of them to map it to its corresponding expense account.

To create new categories, or archive default categories, see this article.

If you'll be exporting corporate card expenses, connect your bank first. Then, map the card:

Go to Settings.
Click on Manage Lists.
Select Company Cards.
Select the proper Credit Card Liability Account, and click Save.