Creating a Partial Reimbursement Policy Follow
This article will show you how to create a Partial Reimbursement Policy.
Navigate to Company Preferences.
Select Policies and click Add a Policy.
Select an expense category you would like the reimbursement limit to apply to.
Under Policy Requirements select the setting "Partial reimburse an employee up to a fixed limit."
Enter the cap reimbursement amount as the Reimbursement Limit.
Select Prevent the employee from submitting an expense that's flagged as out of policy as the Policy Outcome. Users will be forced to modify the expense amount to comply with the spend limit before they can submit it.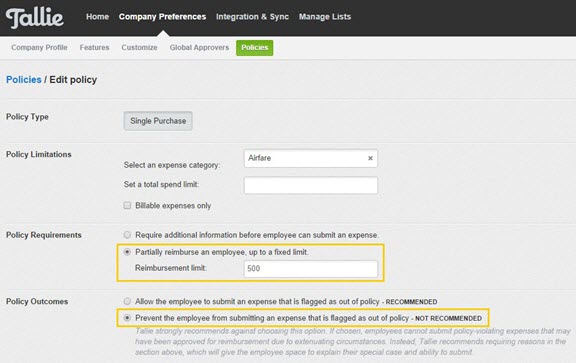 In the example above:
Airfare expenses can be reimbursed up to $500. If someone attempts to submit an airfare expense for $600, the system will not allow the expense to be submitted.
Once the user corrects the amount, the Out of Policy flag will disappear and the user will be able to submit the expense on a report.