Enabling Direct Connect via OFX Follow
OFX - Direct Connect is a data streaming format for exchanging financial information. You can utilize OFX - Direct Connect to bring in credit card transactions directly from your bank site into Tallie. This article will show you how to enable Direct Connect via OFX.
This connection only supports single card aggregations. Credit card accounts with child cards or subaccounts are not supported. OFX Direct Connect is currently available for the following banks:
American Express
Silicon Valley Bank
Chase Bank
Citi Bank
Enable OFX Direct Connect
Turn on OFX on your bank site.

Please Note: you may need to request assistance from the bank if you are unsure where this feature is located.

Reach out to Tallie Support to enable the OFX card connection in Tallie that matches your issuing bank.
Tallie Support will place the OFX connection at the top of your popular banks list.
Navigate to the Credit Cards page.
Click Add a Credit Card.
Select the bank at the top of the popular banks list ending with Direct Connect (for example "American Express Direct Connect").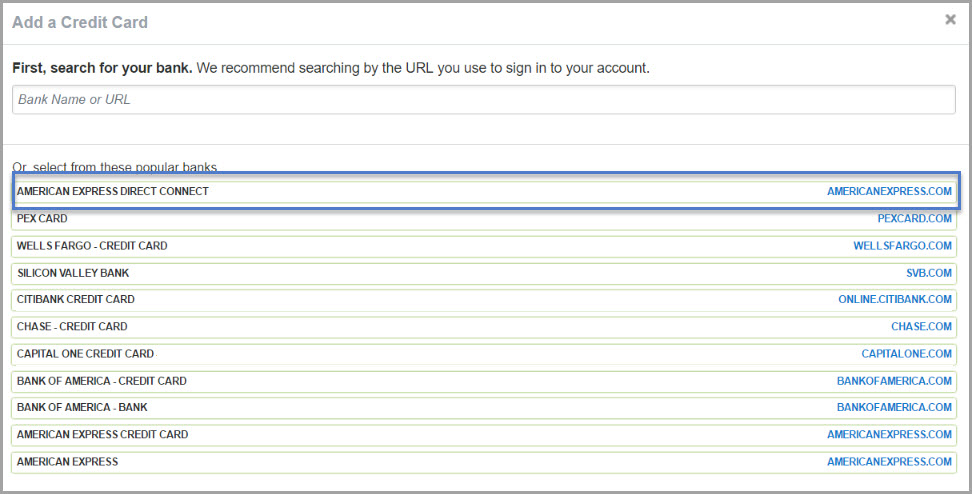 Enter your user-specific login credentials for your online banking and click Sign In (Note: The required information may vary by bank).