Uploading Expense Categories Follow
This article will show you how to upload your expense categories.
Uploading Expense Categories
To upload a list of expense categories:
Go to Settings.
Click on Manage Lists.
Click on Upload Category List.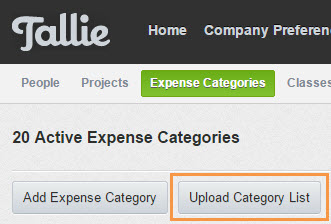 Click Download Expense Category List Template to save a copy of the CSV template on your computer.
When populating the sheet, note that:

Expense Category Name is required.
The Expense Category Type must match exactly with the drop-down menu in Tallie (see screenshot below). If you don't see a suitable category type, we recommend you go with Miscellaneous. If the field is not supported or left blank, the default Unknown type will be used.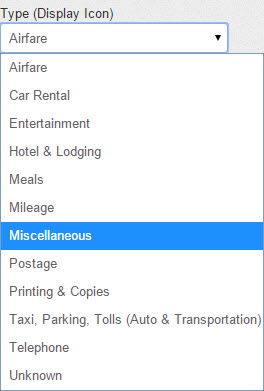 If "Mileage" is in the category name, Fixed Rate and Start Date are required.
Fixed Rate field should contain numbers only – currency symbols are not supported.
Start Date/End Date fields must be populated in date format.

When uploading a list of expense categories, you can also map accounts and/or items simultaneously. Fill out the account and/or item columns with the exact account or item names, along with expense category names and other fields.

Tallie will perform the mapping based on any exact name match with existing accounts or items in the enterprise. The following scenarios could occur:
If no exact name match is found, the category is uploaded without mapping.
If both an account and an item are provided in the upload file, Tallie will evaluate whether both can be applied based on the same integration-based logic used when saving expense categories.

If both can be applied, Tallie will apply both; otherwise, Tallie will apply item mapping only.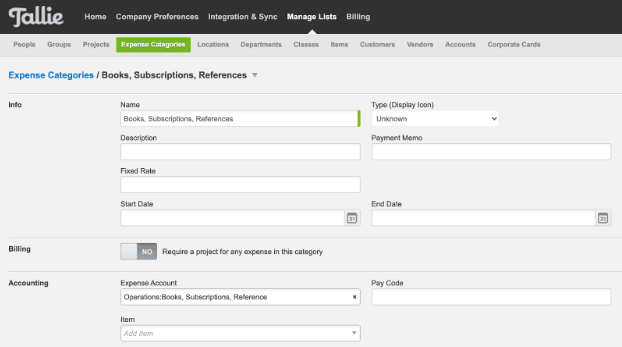 Once ready, drag and drop the file into the upload window, or click the paper clip and select the file.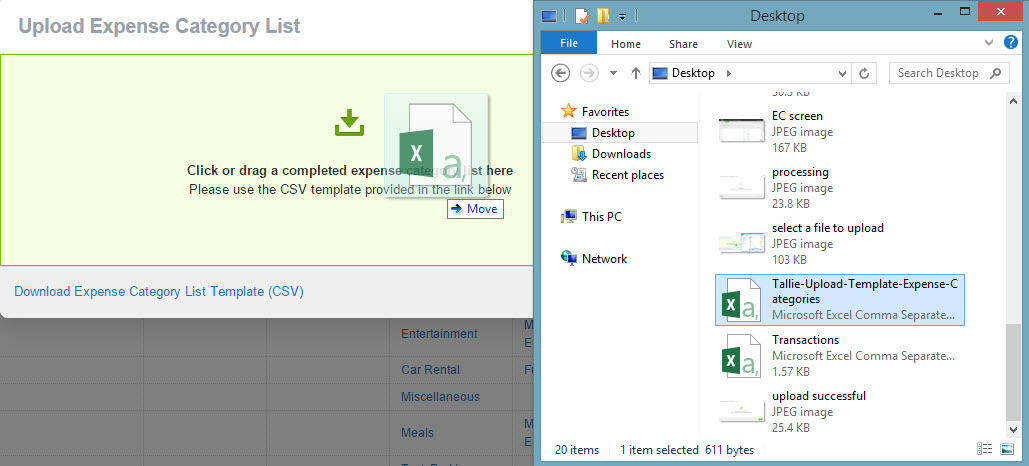 Wait a few seconds for Tallie to process the file.

If an expense category name already exists in Tallie (i.e. names are an exact match), Tallie will overwrite the old record with updated information, including empty fields.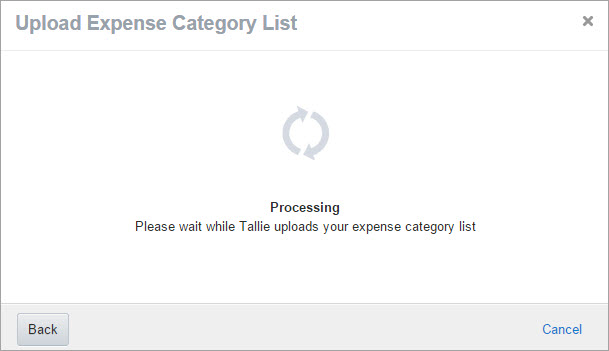 A confirmation screen will appear once the upload is complete. You may click Close to return back to your Expense Category area. Now, simply map each new expense category to its corresponding Expense Account or Item based on your accounting system.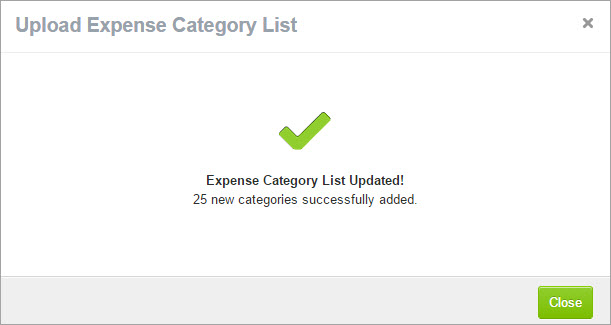 Now that your expense categories are uploaded, you can view and edit their configuration. For further information on this, view our article on Configuring Expense Categories.