Bill.com & Tallie Integration Follow
Tallie can be integrated with Bill.com, where all your reimbursable and non-reimbursable expense reports can automatically create bills to digitally reimburse your team and pay your credit card vendors.

If you already have a Bill.com account and are integrated with other accounting software such as QuickBooks, QuickBooks Online, Intacct, etc., be sure to synchronize your data first. Once you have primed your Bill.com account with the most updated information, it can link it to Tallie.

Attention QBO users: ensure you sync Tallie with QBO before connecting to Bill.com. Failing to do so will result in sync and export issues that will require us to issue you a new account.
Integrating Tallie with Bill.com

Before you establish the connection between your Tallie and Bill.com, you must:
Be the Administrator of your company's Bill.com account
Use the same email address in Bill.com and Tallie as an Admin
Have already logged in to Tallie using that email address
You are now ready to connect Tallie and Bill.com by following the instructions below:
Log into Bill.com
Click on the gear icon in the top right to open up the settings menu, then under Apps, click View All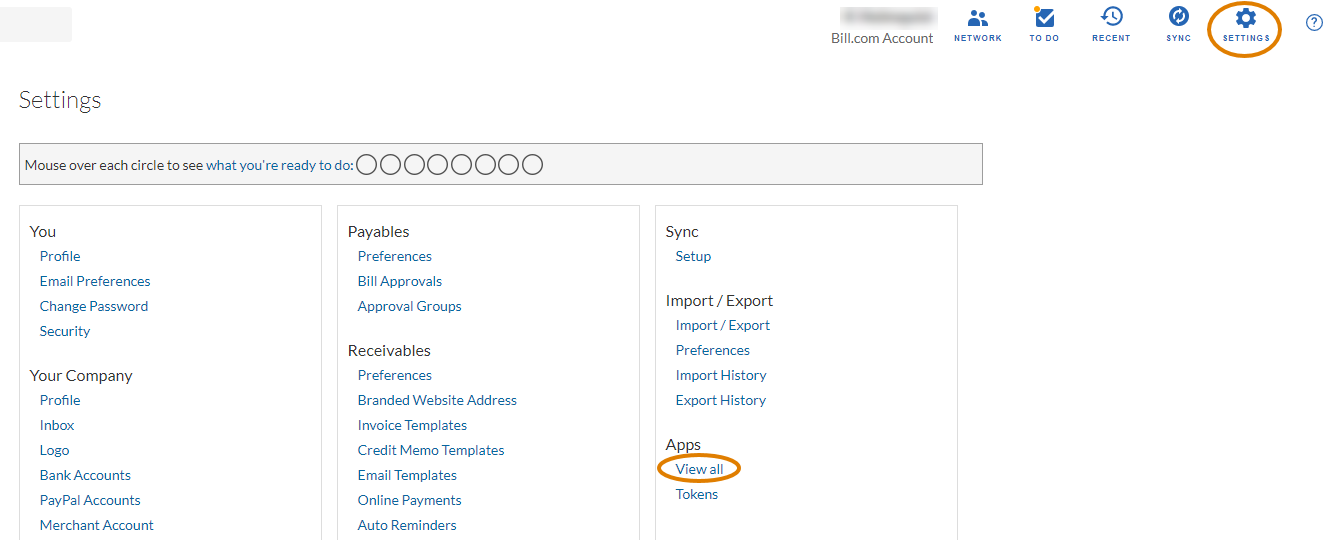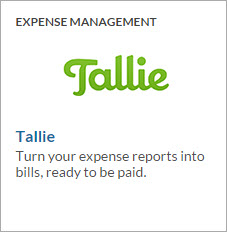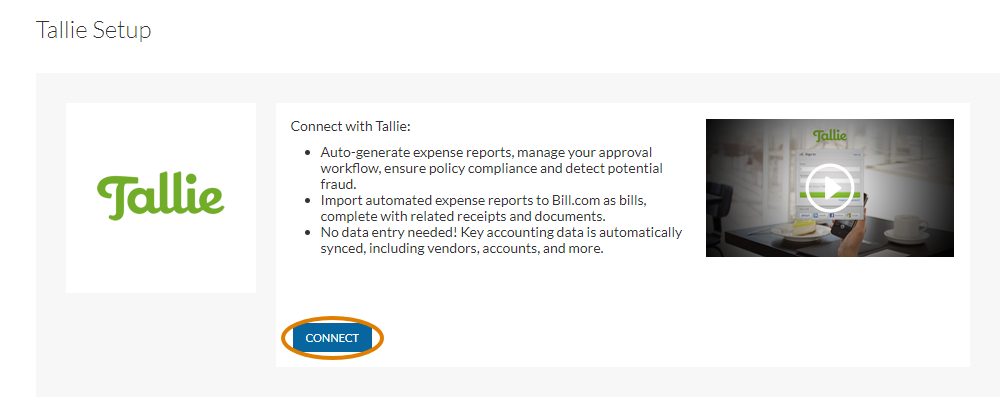 Click Continue. You'll have the options to either link this Bill.com account to an existing Tallie account (based on your email address) or create a new one.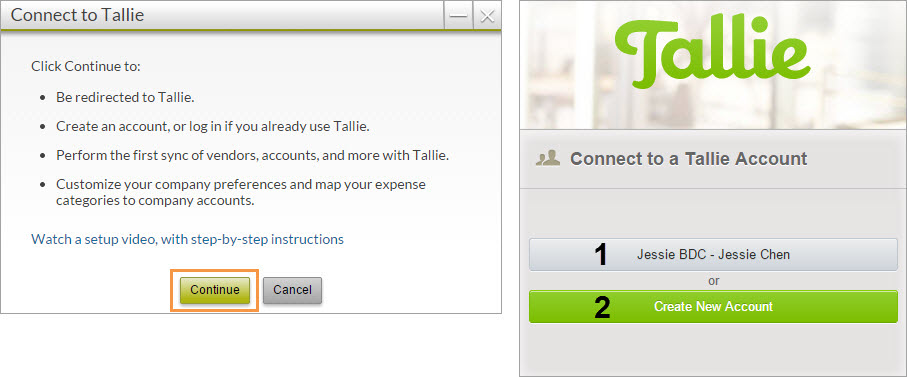 1. If you wish to link to an existing account, select the first option:
a. Enter your Tallie log in credentials for Tallie.
b. Review billing information.
c. And then, the accounts will be connected.
2. If you would like to create a new Tallie, select Create New Account:
a. Verify the pre-populated information.
b. Review Tallie's billing information.
c. Both accounts will be connected thereafter.

You're now configured to export expense reports to Bill.com.

How the Sync Works
The sync between Bill.com and Tallie occurs bi-directionally:
o New information added in Tallie will immediately be reflected in your Bill.com account.
o New information added to Bill.com will come into Tallie every hour.
o To perform a sync instantly, go to Tallie's Integration & Sync page & click Sync Now.​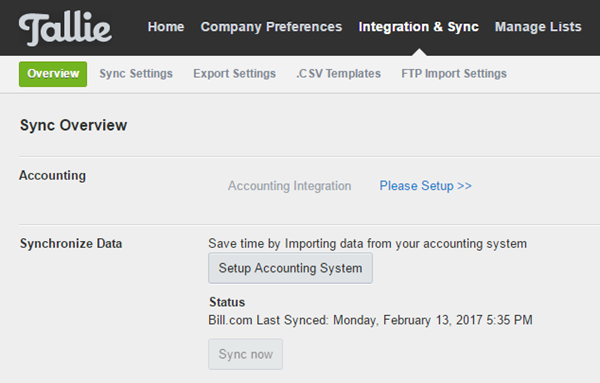 Lists that are synced between Tallie and Bill.com include the Chart of Accounts, Customers and Projects, Classes, Items, and Vendors.
To conduct a full sync between Bill.com and Tallie please contact support at support@usetallie.com.