Assigning People to Projects Follow
By default, projects will track expenses for all users. However, you may change the Access settings to allow only selected expense users to be able to use specific projects. This article will show you how to add people to individual and multiple projects.
Add Specific People Per Project
To add specific people to a project, go to Settings > Manage Lists > Projects.
Click on a project name and go to the People tab.
Select Track expenses for Only selected expense users.
Below, click Add Person and select a user. The start date and end date are not required. If added, however, these dates allow you to restrict when this project can be used.
When you're done adding the users, click Save.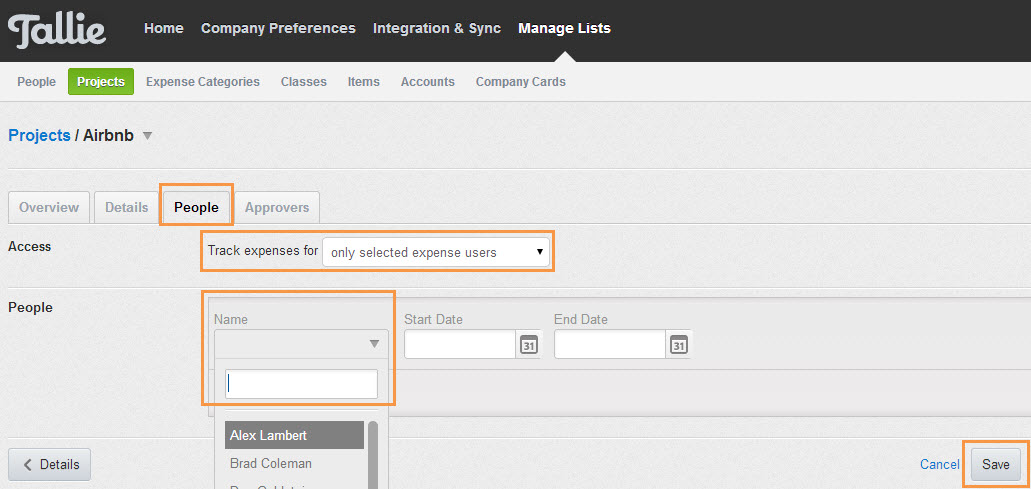 Adding Multiple Employees to Projects at Once
To add employees to projects en masse, go to Settings > Manage Lists > Projects.
Select or check off the projects you wish to add people to.
Click on the drop-down arrow in the Mass Update green button, and click Add People.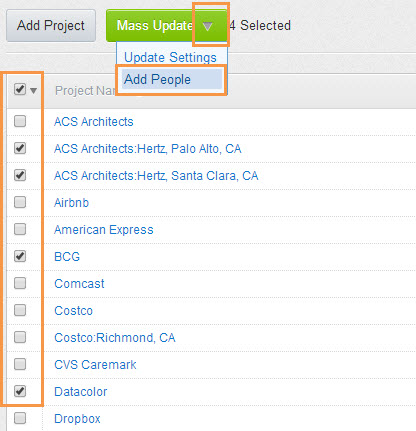 Check off the users who need access to the projects selected, and click Apply.

Please Note: When assigning employees to projects with Mass Update, today's date is automatically selected as the user's start date on the project. If the user will be tracking expenses on the project retroactively, simply go to the Project's People tab to update the active period.