Company Policies allow you to create expense reporting policies, which will mandate certain details to be added onto expense transactions added in Tallie. This article will show you how to configure policies and show how they are displayed on the Purchases page.
Enable Policies
To enable policies, click on the Company Preferences.
Select Features.
Ensure Setup policies for expenses and expense reports is set to Yes. If not, click on the button to toggle it.
Click Save.
A new button for Policies will appear under the Company Preferences navigation bar.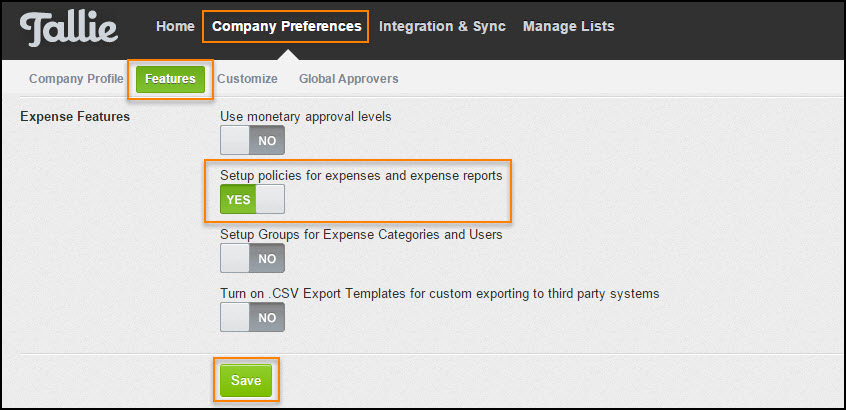 Configure Policies
Navigate to Company Preferences.
Click on Policies.
To add a new policy, click on Add a New Policy.
Click on the pencil icon to edit a pre-existing policy.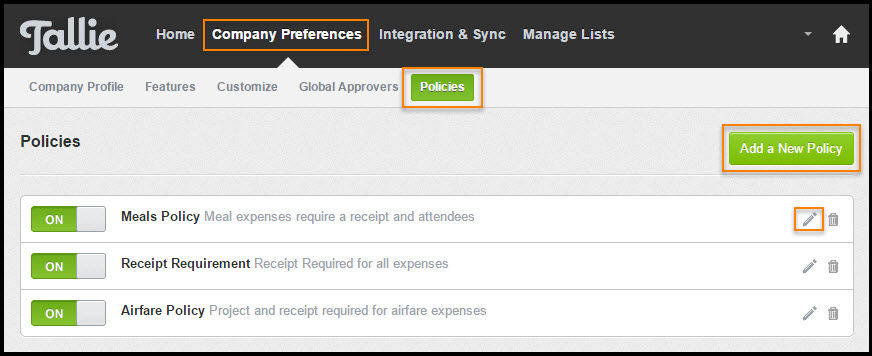 Select an Expense Category and/or input an amount in Set a total spend limit.

You can choose to utilize any combination of these fields. For example, if you leave expense category blank and enter "25" as the amount, then all transactions $25 or greater will require the below selections regardless of category.​
If both fields are blank, then this policy will be applied to all expenses entered into Purchases.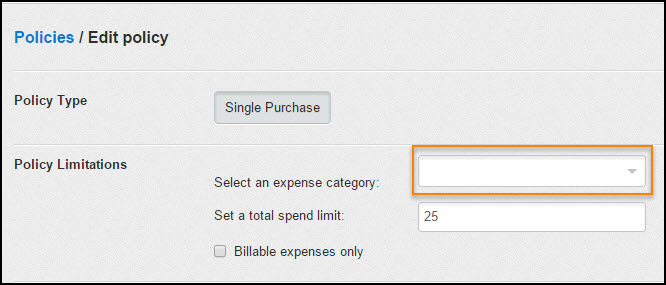 In Policy Requirements, check off details you'd like users to add based on the conditions set above.

Please Note: If Entertainment or Meals type expense categories are selected, another policy requirement will appear called "Attendees."

In the Policy Outcomes section, you can choose whether to allow the employees to submit expenses that fall out of restrictions and let the approvers decide based on the out of policy warning flag, or strictly prevent those from being submitted.

Please Note: If the first option is chosen, the out of policy message will remain on transactions throughout the submission, approval, and export processes.
Warning Text is optional. There will be a default message that displays when someone is in violation.
Name this policy and click Create Policy.
How Policies are displayed on the Purchases page
If the expense is missing details and is violating a policy you've set, this is how it appears for the user.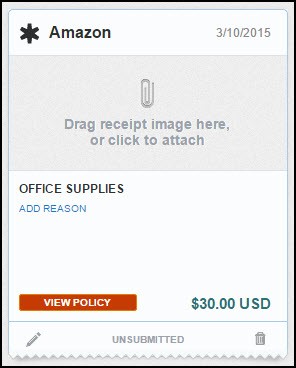 When the user clicks View Policy the warning text will appear.