Integrations & Sync Overview Follow
To open up the Settings menu, click on the Gear icon at the top right. You may also click on your name/enterprise and click Settings on any Tallie page.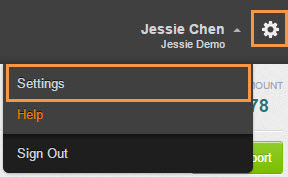 Next, select the Integrations & Sync tab.

The Integrations & Sync area is comprised of three subdivisions: Overview, Sync Settings, and Export Settings.
The Overview tab allows you to download TallieConnect and edit synchronization settings. Typically, no adjustments need to be made here.