Viewing Usage and Pricing Follow
There are two different pricing models in Tallie:
Usage-based pricing (Legacy)
Tiered-based pricing
Both pricing models have the same criteria for active user: A user is registered as active once an expense has been created in their account during the month.
Creating an expense is defined as any action that creates a new expense tile on the Purchases page. This includes scanning a receipt, manually entering expense details, calculating mileage, or importing a credit card transaction.
Legacy customers on usage-based pricing: Your account will be billed the monthly minimum at the start of each month plus applicable usage fees per active user incurred the previous month exceeding the monthly minimum fee.
You can view your monthly minimum fees, along with the per active user, on the Billing tab within Tallie under Plans & Pricing > Account Pricing (example shown below).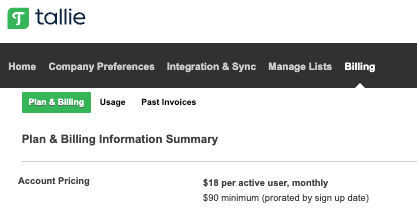 If your plan has a $90 minimum and a per-user fee of $18 per user, you will be billed $90 at the beginning of the month, plus usage fees of $18 per active user incurred the previous month exceeding the minimum.
For example, 10 active users in the previous month would total $180, so the additional fee would be $130. Summing up the current month's minimum and the previous month's usage fees, the invoice total would be $180.
Tier-based pricing customers: Your invoices will include the base rate of the chosen tier for the current month and any active user overage fees incurred in the previous month. For full details on our pricing plans, please visit: www.tallie.com/pricing
For example, Acme Company is on the Cash Control plan, which has a $160 monthly base rate. In the month of August, 11 users have expenses created in their accounts. Their invoice on September 1st will be $160 + $32(active user overage for 11-9=2) = $192.
In the Billing tab, under Usage, you can see a visual display of the breakdown for each month's usage, and a list of monthly active users on the Usage Detail section of the Usage page. Click Past Invoices for a more detailed outline of your previous invoices from Tallie.