Syncing Tallie and NetSuite Follow
Tallie offers a NetSuite integration to allow for exporting expense reports as vendor bills to NetSuite.Once NetSuite is connected to your Tallie account, you can begin syncing between your Tallie and NetSuite accounts.
Please Note: Only new Tallie accounts can sync with NetSuite. If you have an existing account, you will need to obtain a new account to sync.
This article will show you, a Tallie user, how to sync between your Tallie and NetSuite accounts.
Step 1: You have three options for syncing between Tallie and NetSuite:
Default sync: By default, once you set up NetSuite and Tallie, they will sync every two hours.
Real-Time sync: Completed within your NetSuite account. This auto-sync occurs whenever changes are made.
Manual sync: Manually initiate a sync from your Tallie account.
Step 2: To initiate a real-time sync in your NetSuite account, start by clicking Customization, then hover over SuiteBuilder. Next, hover over Search & Install Bundles followed by clicking List.
Step 3: On the Search & Install Bundles page, type Tallie Sync into the Keywords field and click Search.

Step 4: The Installation Terms of Service section appears. Select Tallie Real-Time Sync.

Step 5: The Bundle Details page opens. Click Install.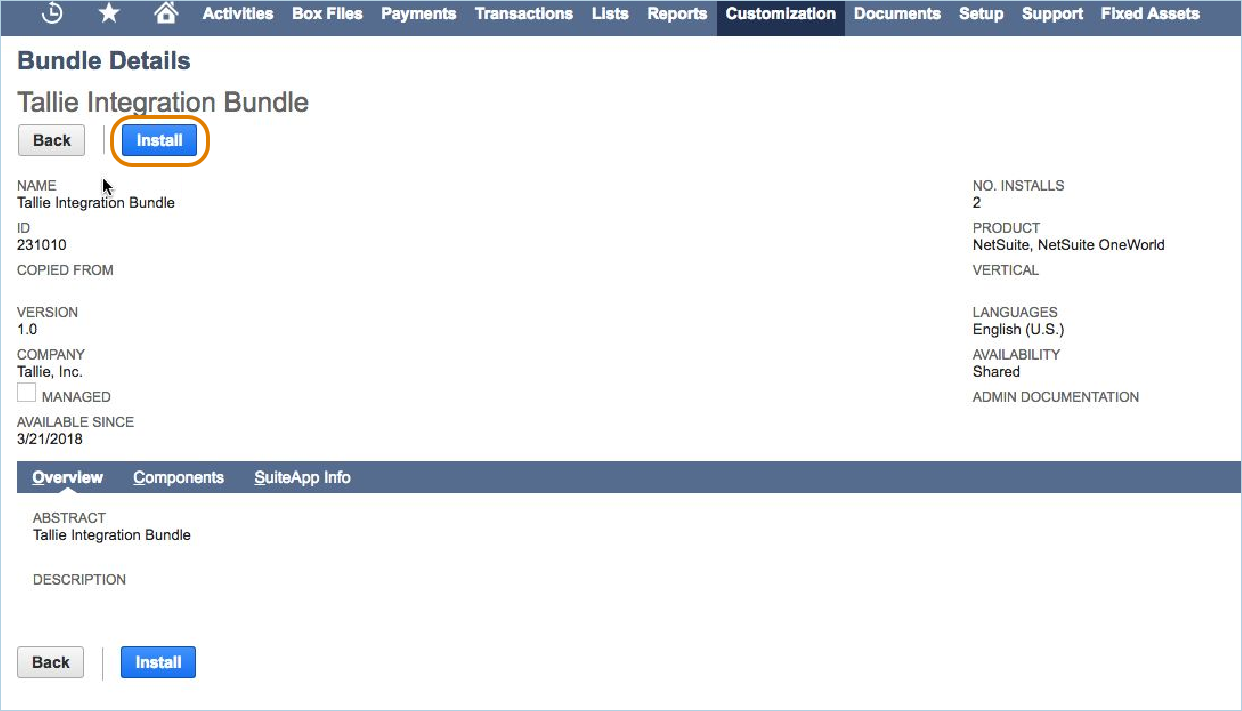 Step 6: To manually sync at any time, click the gear icon on your Tallie homepage to access your account settings.

Step 7: Click Integration & Sync.
Step 8: Click Sync now.