Accessing Export Settings Follow
The Export Settings tab allows you to change the export settings in Tallie. Depending on your Expense Payment selection (Accounting, Accounting & Payroll, Archive, PDF Printer, BILL, etc.), a different series of settings will become available.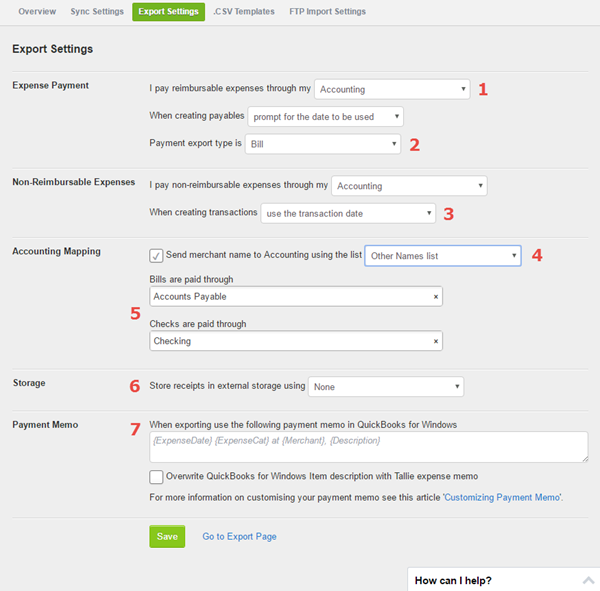 If you would like to export expense payments to your accounting software, select Accounting.

If you don't need to export to accounting nor payroll, you can select:

Archive: Expense data will be archived but will remain in your Tallie account and can be reviewed later.
PDF Printer: Download expense reports in PDF format.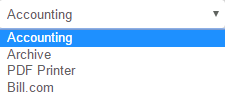 See BILL & Tallie Integration for more information connecting Tallie with your BILL account for reimbursements.
Payment export type allows you to define how you would like to reimburse employees, either with checks or bills.
The Accounting System Transaction Date setting allows you to select whether to record corporate card expenses in your accounting system using the transaction date, export date, or to be prompted to select a date before you export.
Check this box if you would like to import Merchant Names of your corporate card transactions to QuickBooks, and specify whether to add in your Vendor or Other Names list in case a merchant does not already exist in QB.
The Account Mapping setting allows you to select the account that your checks or bills are paid through.
If you use SmartVault for data Storage in conjunction with QuickBooks Desktop, simply select SmartVault and enter your login information.

See Enabling SmartVault for more information.
Receipts will be exported to QuickBooks Online as attachments. SmartVault is not required.

By default, the Payment Memo will include the report ID number, expense report name, and description (e.g. Tallie 9: March Report: Report Notes). To customize this field, see this article.