Configuring People: Personal Permissions Follow
The Permissions tab allows you to configure the employee type and their authorizations.
Person Type: This is for visual presentation purposes only, which allows you to easily discern what type of user each person is by glancing at your People list.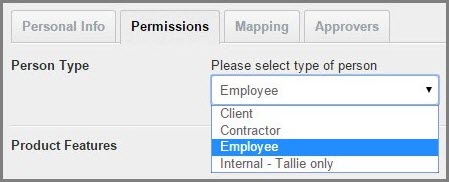 The boxes below represent the authorizations that you may give to an individual employee.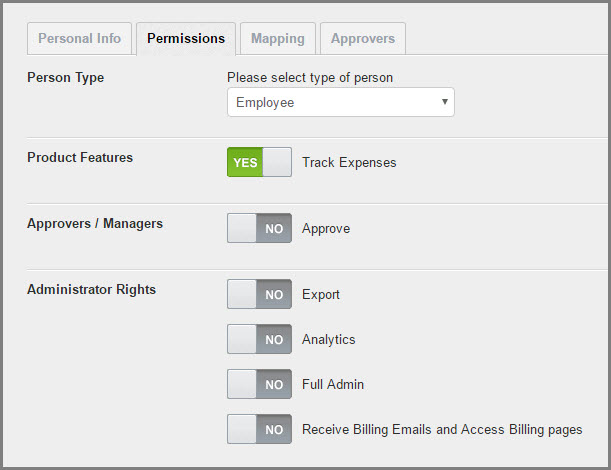 Note: If Monetary Approval Levels are enabled, the Expense Approval Level drop-down menu will be shown.
Refer to the chart below for a specific definition of each permission:
| | |
| --- | --- |
| Permission | Definition |
| Track Expenses | Gives access to track expenses in Tallie. |
| Approve | Enables the ability to approve expenses for people or projects they are assigned to. |
| Export | Enables the ability to export approved expense reports into your accounting software. |
| Analytics | Gives access to the Analytics tab in Tallie. This includes access to accounting reports and reports that may contain confidential information. |
| Full Admin | Allows users to sync and change settings in Tallie. In order to give expenses "full administrative access," they would need all the boxes in the Administrative Rights row checked. |
| Receive Billing Emails and Access Billing pages | Gives access to the Billing page in Tallie. This includes viewing billing information, usage, pricing and past invoices. |
| Admin Overview | Gives access to the Admin Overview page, allowing the user to have a birds-eye view of all expense reports awaiting submission, approval, and export. Please see here for more information on Using the Admin Overview Page. |