If you integrate with QuickBooks, Tallie will import your QuickBooks Employee Center to create the People List in Tallie. However, contractors who are listed as vendors in your QuickBooks are not automatically created in Tallie. You will need to manually add these users in Tallie and map them back to their respective vendor names from your QuickBooks.
To add a contractor, follow the steps below.
Create a person in Tallie:

Click on the gear icon in the upper right to access Settings.
Click on Manage Lists.
Click on People.
Click Add Person.
Enter the user's First Name, Last Name, and Email Address (these fields are required). For more information regarding adding users, see Individual User Information and Personal Permissions.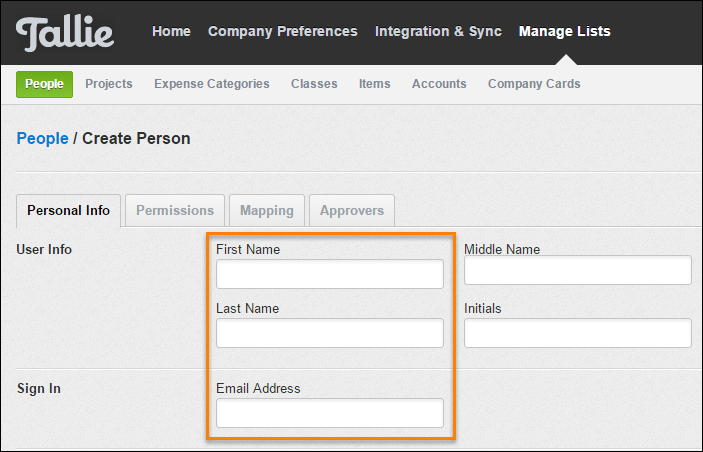 Go to the Permissions tab and select Person Type: "Contractor."

Please Note: Do not select Person Type: "Employee" as it will auto-create the person in your QB Employee Center during the automatic sync process.
Go to the Mapping tab:

Select the vendor name this user should be associated with in your QuickBooks Vendor Center. [This list of vendors is synced from QB.]
If your account has been configured to export to BILL, select the user's vendor name in BILL from the BILL Vendor drop down list.

For the Export To Accounting As field:

If your company settings are not configured to export reimbursable expenses as a"(Bill)", change it to Bill specifically using the drop-down menu.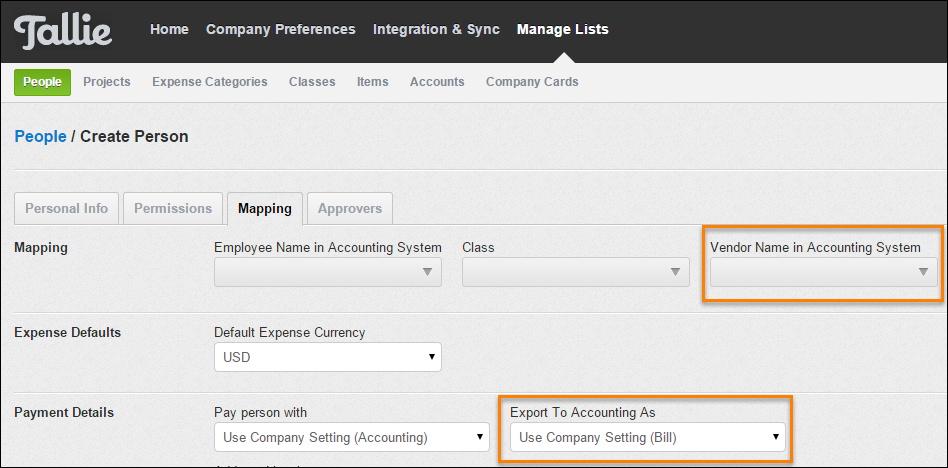 Click Save & Exit when complete.