FAQ: American Express Sunset Follow
Starting August 31st, we will no longer support one of our American Express credit card connections. We have implemented a pop-up message within the product and sent emails to users and administrators who may be affected by this change. To prevent any service interruptions, we have created a list of frequently asked questions in this article to guide you through the necessary adjustments.
FAQ:
Q: I got a pop-up message or email from Tallie about my American Express Card connection. What do I need to do to keep getting transactions from American Express?

A: This message is appearing because you are using an American Express card connection that will cease to work on August 31, 2023. You will need to re-add your currently connected American Express Card on a new connection. This message will appear for admins and users whose profile hosts an affected American Express card/card program. Anyone with a card assigned to them by another user will not receive this message.
Q: Why is this connection being discontinued?
A: We've added a new connection that uses more modern authentication (OAuth 2.0 token-based authorization). The new connection offers numerous advantages that address the challenges associated with the current connection that we're sunsetting. The benefits include:
Security – The OAuth protocol provides customers with greater control over where and how their financial information is being accessed and shared.

Control and Transparency – Customers can clearly understand and manage their connections to financial service provider apps and have better visibility into what data is being shared and where their data is going.

Fewer Sign-on Disruptions – oAuth connections are more stable and may last for longer periods of time.
Q: How can I tell which card(s) are affected?
A: If you see "American Express Cards" or "American Express Direct Connect" on your card feed, you need to reconnect your card(s). Any user or admin with a card feed that shows these names should re-connect their card(s).

Q: My card feed shows a name that is not "American Express Cards" or "American Express Direct Connect", do I need to do anything?
A: No, if your card name is not "American Express Cards" or "American Express Direct Connect", you are good to go! No action items are required on your end.
Q: I'm Tallie Administrator - is there a quicker method to check which employees have been impacted?
A: Yes! As an Admin you can navigate to Settings > Manage Lists > Company Cards. This page will show you every company-paid card and the name of the person that manages the connection.


The displayed username indicates the person who is currently maintaining the connection, along with the Card Feed Name, Credit Card type or Program Name, and the last four digits of the card.

So in this example:
Account Administrator (American Express Cards - Business Platinum Card - 1234)

Card Admin: Account Administrator (this is the user's name in Tallie that either connected the card or administers the card)
Card Feed Name: "American Express Cards"
Card Program: Business Platinum Card
Last 4 of Card: 1234
Q: How do I re-add my American Express card to Tallie?
A: Great question! Please follow these steps to re-add your American Express card(s) to Tallie:
Step 1: Log in to your Tallie account and click on the Credit Cards tab, then click Add a Credit Card >> choose I have a different type of card

Step 2: Select the American Express logo, we do not recommend selecting "I have a different provider" to search for an alternate connection option.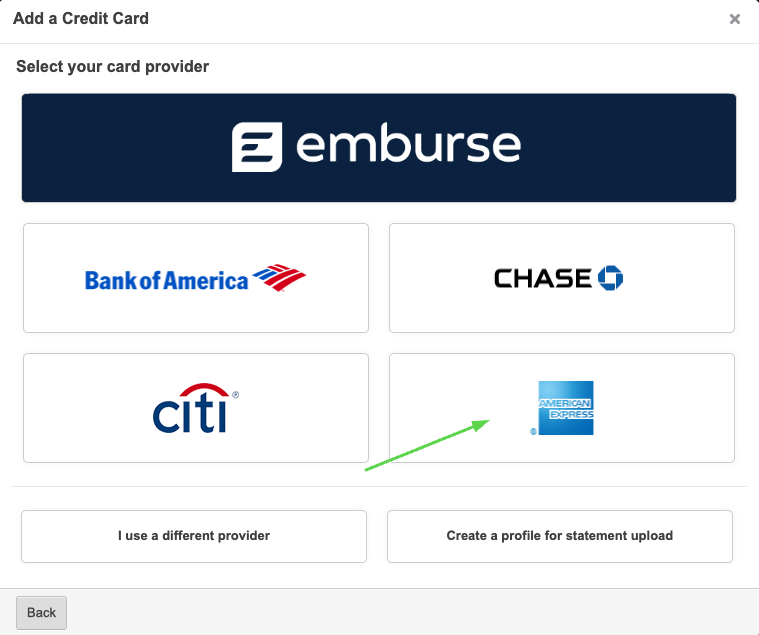 Step 3: From here, you should be prompted to log in to American Express directly. The login prompt should look like the following and may appear in a new window or tab. Ensure you have pop-ups enabled on your browser to ensure the re-direct will work.
Step 4: Follow the on-screen prompts to enter your username and password.
Once completed, your new card connection should be visible on your Credit Card page.
Q: Should I uncheck the "Auto-import to Purchases" function on the old card and select "Auto-import to Purchases" on the new linked card?
A: Yes! To avoid any potential duplication, we suggest turning off the auto-import feature on the originally connected card profile and suggest you manually import any transactions you require before enabling the auto-import function on the new card connection.
Q: What do I do after re-adding the card?
A: If you are an Admin and you re-add the card for your user, you can assign the card(s) to other people, enable auto-import, and manually import any transactions from the new connection.
As a final step, Tallie Administrators should map the newly connected cards for export by following the steps in this guide: Mapping Company Cards.
Q: I have enabled auto-import on my card but the transactions are not on my purchases page.
A: Once you turn on the auto-import feature, any new data that arrives will be imported automatically. But when you first link your card, we receive a group of previous transactions. To prevent duplicating data or importing information that is too outdated, this initial batch will not be automatically imported by default. However, you can manually import it by following the steps in this guide and transferring it from the card to your Purchases page: Importing Credit Card Transactions.
Q: Do I need to remove/delete the old card profile?
A: No, but we do recommend that you disable the auto-import feature on the card. If you want to remove the card, we strongly recommend only doing so once you have exported the transaction data and are certain you will not need to re-export at a later date. As a precaution, Tallie prohibits the deletion of cards that have pending transactions (such as those shown on the Purchases page or in submitted/approved reports). To delete these cards, you must either remove the transactions or export any reports that have transactions linked to the cards.
Please follow the steps in this guide: Removing a Credit Card Profile
Q: When I try to connect my card program, I receive this error message: "Sign into your financial institution's website and complete their required actions before trying to connect to your accounts. (109)". What do I do?

A: This could be because there's an action you need to take on your account, like resetting your password, agreeing to new terms of service, or setting up a new security requirement. Please note that this extra security measure is required as part of your card provider's security settings and can't be bypassed.
If you get this message log into your card account directly on a secure web browser (not via a mobile app) to confirm your online banking settings enable you to share your data - before retrying your connection attempt.
This setting may be called "Third-Party Sharing" or something similar, and it can usually be found in the Privacy or Security section of your Account Settings. If you've just opened a new card account, make sure all cards are activated, accounts are enrolled in online banking, and you've set up all required security questions.
Other times, your card provider may require you to complete an action, as part of a routine update. Please log into your bank account directly on a secure web browser (not via a mobile app) to see any additional prompts for you to complete when attempting your connection on Tallie. Examples of these types of actions include:
New Terms of Service that they'd like you to confirm
A prompt asking to switch to paperless statements
Contact information they'd like you to update
A new security requirement
Multi-factor authentication prompts
We recommend that you stay logged in to your card account while connecting to Tallie and respond to any prompts as required.
Q: When I try to connect my card program, I receive this error message: "We're unable to establish a connection to your financial institution. Try again later. (102)". What do I do?
A: If you see a 102 or 105 error, it indicates a temporary connection issue while trying to connect with your card account. The online portal or the API used to facilitate the connection could be under maintenance or experiencing server issues. These issues typically self-resolve, so if you encounter this error, try again later.
Q: I've re-added my American Express card feed. Why is the message still showing up?
A: To dismiss this message, please select "Don't show me this again" before you click 'Ok'.